A
theory about the maid
on the official Hetalia movie poster from the official Gentosha Comics website.
Updated on January 16, 2010. The Hetalia Wikia hoax will be unrelated to this theory as of now.
CLICK HERE
Scroll down til you see 10 photos under
●ゆりかもめ線 国際展示場正門駅 駅ジャックレポート!●
冬コミ期間中に実施して大好評のヘタリア駅貼りの様子を特別レポ!!
Then click on the bottom middle picture, and you'll see a maid standing next to Latvia at the end.
Your thoughts?
That maid on this movie poster looks like that maid in episode 1 of Axis Powers Hetalia anime, retaining the hairstyle and outfit. The maid (from the episode 1) kind of looks European, but Philippines is a part of Latin Union, so possibly Himaruya-san drew her that way.
But her eye color is too small to see, so we'll have to wait til the movie comes out on summer of Japan (around June to August) but it's proven that the poster!maid's hair color is
black
. You know how Himaruya-san likes to change things a bit.
Episode 1 of Hetalia anime

What do you think?

Does it confirm the validity of Hetalia Wiki's recent updates?

Or do you disagree that the maid is Phils-tan?

Speak out!


UPDATED:
January 15, 2010
The Asia3 x Maid Theory



Courtesy of kurohou. According to her, it came from a japanese article about APH before the anime was aired officially.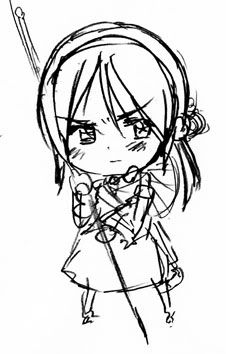 Now, try comparing this asia3.jpg with the maid picture above. The hairstyle does look similar, isn't it? Even the small strand of hair is sticking out on the forehead.

Apparently, I think this sketch was probably an old version of how Himaruya-san originally planned Philippines to be.



UPDATED NUMBER 2:
January 16, 2010


Once again, kurohou found another great find.
A clearer resolution of the characters from the movie poster.
The maid is at the end next to Korea. (and taller than him lolwut)
Some characters looked badly proportioned. xD

UPDATED NUMBER 3:
The Maid!Philippines Theory
.




The maid is possibly an Asian nation, for her hairstyle looks noticeably similar to that asia3 sketch. That points out that the maid is possibly not a Latin American country.



I understand about the maid issue, but I think it's a honorable job. Maids watch after the house, valuables, and etc. while the master is not here. The maids also do important housekeeping duties. They are there when we need them, especially those people who are not used to chores. -laughs- Maybe it's why some other countries acknowledge us as maids. Nurses and caretakers are also valuable in the society-- they look after the sick. If there are no maids in the world, how are we going to survive? In a sense, maids are our heroines at home.

As for the maid's appearance-- green eyes and light skin. Green eyes aren't a big deal, for other characters have unrealistic color codes. One primary example is Iceland having silver-gray hair and lavender eyes. Others include Russia with lavender eyes and Austria with violet eyes. Meanwhile, Spanish people in reality have brown eyes--- but Spain has green eyes!

Originally, Romano's eye color was supposed to be green, but now brown in the anime. As for South Korea, his hair color was originally going to be black, but suddenly changed to chestnut brown in the anime. Now you know why Himaruya-san loves to mess with the colors.



Philippines, as I will point out, is listed as one of the three Latin Asian countries(along with Macau and East Timor) and also a part of Latin Union.



Also, she has green eyes because she was "adopted" by Spain, according to someone. As we speak, Canada inherited wavy hair from France, and both HK and Australia have inherited those eyebrows from UK. So it's likely, that Philippines, being colonized for more than 300 years, will have inherited green eyes from Spain.

About her height, I'm thinking it's because it's a glitch. (Look, other characters are badly proportioned.) But Eurasians are known to be really tall. Philippines, an Asian country, being colonized by Spain and England once, might have inherited that way.

So, dear Filipinos, don't be offended. Because of the South Korea incident, it left a huge impact on Himaruya-san. If one of you starts to protest against the anime because of a certain maid, it will deal another blow to Himaruya. :( I know he's not trying to make fun of our Motherland, Philippines.



I would like to point out that everything said here is a theory. Whether the maid is Philippines or not, the fate of the maid rest upon in the hands of Himaruya-san. We'll know when the Hetalia movie appears on around June-August 2010.